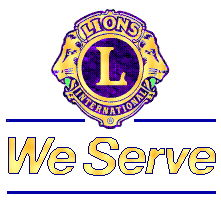 DeKalb Noon
Lions Club
DeKalb, Illinois
---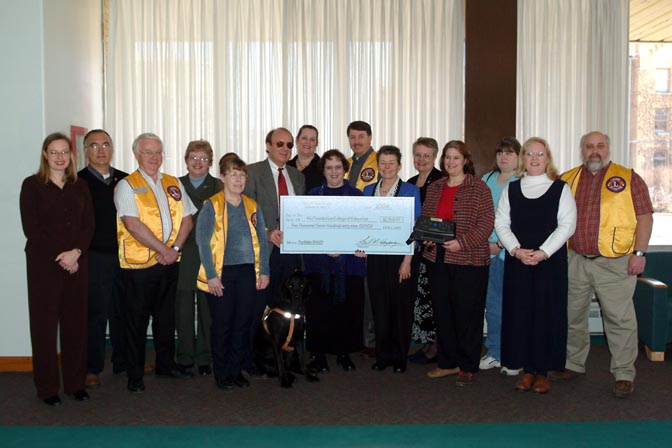 DEKALB NOON LIONS DONATES FUNDS TO NIU VISUAL DISABILITIES PROGRAM

A gift of nearly $2,800 from the DeKalb Noon Lions will help to keep Northern Illinois University's visual disabilities program on top of new technology that benefits people who are blind or visually impaired.
The club's grant of $2,769 has purchased a Pac-Mate, a compact, portable computer designed for users with visual impairments that should work with most off-the-shelf software made for sighted people.
Marketed by St. Petersburg, Fla.-based Freedom Scientific, the Pac-Mate personal digital assistant (PDA) just was released in January. It presents information in spoken voice as well as in refreshable Braille, using metal pins that pop up from the unit, and has a Braille keyboard.

Professor Gaylen Kapperman, coordinator of Programs in Vision in the NIU College of Education's Department of Teaching and Learning, said he and fellow faculty will incorporate the Pac-Mate into the curriculum as soon as the summer. NIU will become the first in the country to include the sophisticated and flexible tool in the skills and knowledge of its graduates.
And, Kapperman added, he already has discovered and hopes to further develop a broader use of the Pac-Mate – teaching foreign languages – that could have tremendous and widespread potential far beyond DeKalb.
"The Pac-Mate is a highly advanced piece of technology that is a 'blind person's PDA.' It operates Windows CE, the same operating system for PDAs sighted people use," Kapperman said. "We're trying very hard to stay on the cutting edge in our training here at NIU, and one of the things we pride ourselves on is maintaining our leading position in the field with regard to technology. This donation from the Lions Club helps immensely to get us into the arena of the newest, and what we believe is one of the most sophisticated, pieces of hardware for blind persons. I'm so happy the Lions Club saw fit to help us out."
Founded in Chicago in 1917, the International Association of Lions Club is the world's largest service organization, with more than 1.4 million members covering 182 countries and geographic areas. Call (815) 758-5257 for more information about the DeKalb Noon Lions Club.
"This grant really demonstrates the core value of the Lions Club philosophy: to extend our assistance for the betterment of the community and the world at large," Noon Lions President Mike Salovesh said. "Given that sight conservation is the major focus of Lions charitable programs, we felt that this was a project where our funding could truly help make a difference."
NIU has one of the country's best and largest programs in blindness and visual impairment, preparing students to become teachers of visually impaired children, rehabilitation specialists for newly blinded adults and instructors of orientation and mobility.
"We are thrilled to have the support of the DeKalb Noon Lions Club for our visual disabilities program," said Chris Sorensen, dean of the College of Education. "Our graduates are especially knowledgeable in the best strategies and adaptive devices available for those with visual disabilities. Through this grant, the DeKalb Noon Lions is helping to ensure that our graduates will continue to have hands-on experiences with the most current technologies for improving the lives of those with visual impairments."
The Pac-Mate contains such commonly used software as Word, Outlook, Excel, Internet Explorer and Access. Blind persons can use the device for word processing, performing mathematical computations, surfing the Internet, sending e-mail and managing daily tasks and appointments through "planner" capabilities.
Meanwhile, Kapperman said, users will not feel a pinch in their pocketbooks because the programs are the same ones purchased by sighted people. Programs tailored specifically for blind users typically sell for hundreds of dollars more per unit because far fewer are sold, he said. However, he cautions that the Pac-Mate might not work with every off-the-shelf program.
Kapperman still is exploring the options and opportunities with the Pac-Mate purchased through the Lions grant.
"I have to have the equipment myself in order to learn it in order to train our students," he said. "This is not a piece you can just pick up, turn on and work without some training."
The notion that the Pac-Mate could enable blind people to study foreign languages came to Kapperman during his early tinkering.
After consultation with a faculty member in the NIU Department of Foreign Languages and Literatures, in the College of Liberal Arts and Sciences, he has written and submitted a grant request to a private foundation for funding that would develop that potential and supply NIU with several more Pac-Mate units. The grant, if funded, also would pay for as many as three professors from foreign languages to participate in the project.
"Not even the company has thought of it. In my investigating and looking at it, and just trying it out, I said to myself, 'Hey, this will work very well,' " Kapperman said. "If we can get the money to develop the strategies for using it to study foreign languages, this donation of the Noon Lions Club will blossom into a much greater project."
Return to the DeKalb Noon Lions Page