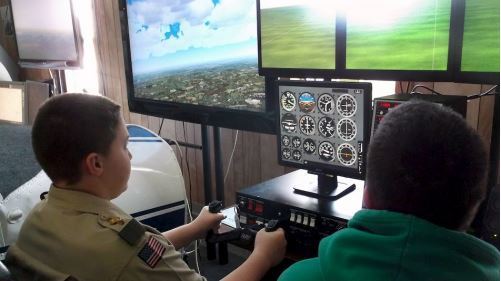 &nbsp

Scouts pursue aviation badge at DeKalb airport




In pursuit of the aviation merit badge, Boy Scouts from Troop 33 in DeKalb spent a day at DeKalb Taylor Municipal Airport. They were the guests of Kishwaukee Education Consortium, DeKalb Taylor Municipal Airport Authority, and Fly America Flight School.

Their aviation adventure began with classroom learning covering various aspects of aviation, including uses of aircraft today and how piston, turboprop, and jet engines work; physical forces such as lift, drag and thrust; and how control surfaces of an aircraft are used for maneuvering. They also learned about instrumentation in the cockpit and about recreational and private pilot certificates and instrument ratings.

Scouts received a special tour of the airport runways, taxiways, and fleet of emergency equipment. They saw a plane preparing for takeoff and learned about how radio communications, flight regulations and light signals make the airport operate safely.

Boys gave a plane a pre-flight inspection, observing firsthand how different parts of the plane work. While sitting in the cockpit, they maneuvered wing flaps such as aileron, elevator and rudder. They learned about all the safety checks that are made before each flight.

The most exciting part of the day was using flight simulators, which provided Scouts with a virtual-reality flying experience. The scoutsí instructors were KEC aviation students. Sitting in the cockpit, they operated controls while talking over headphones with a virtual reality control tower. They completed several maneuvers, including takeoffs, turns, climbs, descents and landings. Scouts used the instruments and controls just as a real pilot would in an actual flight. It was the closest thing to a piloting a real plane.

By the end of the afternoon, they had completed all the requirements for aviation merit badges. Troop 33 is sponsored by First Lutheran Church in DeKalb and are online at http://troop33dekalb.org.





.