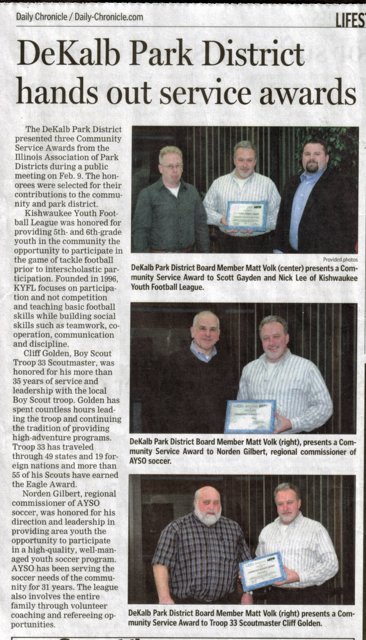 Article "Dekalb Park district hands out service awards" from DeKalb Chronicle, Saturday February 26, 2011 - Page C7

&nbsp

DeKalb Park District hands out service awards




The DeKalb Park District presented three Community Service Awards from the Illinois Association of Park Districts during a public meeting on Feb. 9. The honorees were selected for their contributions to the community and park district.

Kishwaukee Youth Football League was honored for providing 5th- and 6th-grade youth in the community the opportunity to participate in the game of tackle football prior to interscholastic participation. Founded in 1996, KYFL focuses on participation and not competition and teaching basic football skills while building social skills such as teamwork, cooperation, communication and discipline.

Cliff Golden, Boy Scout Troop 33 Scoutmaster, was honored for his more than 35 years of service and leadership with the local Boy Scout troop. Golden has spent countless hours leading the troop and continuing the tradition of providing high-adventure programs. Troop 33 has traveled through 49 states and 19 foreign nations and more than 55 of his Scouts have earned the Eagle Award.

Norden Gilbert, regional commissioner of AYSO soccer, was honored for his direction and leadership in providing area youth the opportunity to participate in a high-quality, well-managed youth soccer program. AYSO has been serving the soccer needs of the community for 31 years. The league also involves the entire family through volunteer coaching and refereeing opportunities.

.