When disaster strikes anywhere in the U.S., it's a safe bet DeKalb County residents will be among those answering the call for help - through either physical efforts or monetary support.
As the so-called "Frankenstorm" crashed onto the Eastern seaboard Oct. 29, in the form of Hurricane Sandy, DeKalb Boy Scout Troop 33 and three DeKalb County American Red Cross Chapter members readied themselves for volunteer action. The two groups worked independently, but proudly represented DeKalb County in the relief effort.
As it advanced on New York and New Jersey and then into Canada, Sandy became the largest Atlantic hurricane on record, one source estimating the cost at $65.6 billion. Millions of people around the world viewed the chaos, especially in New York. The super storm caused hundreds of deaths and millions of dollars in property destruction on its charge through the Caribbean, walloping Puerto Rico, Cuba, the Bahamas and Haiti, leaving more than 200,000 homeless.
Close on the hurricane's heels was Winter Storm Athena on Nov. 7, once again striking a crippling blow to the already hard-hit area.
DEKALB BOY SCOUT
TROOP 33
Life lessons are best learned through first-hand experience.
That is something long-time Troop Leader cliff Golden instills in his Boy Scouts by both word and deed.
"The hurricane's destruction was much worse than what you could see on TV. This was real life and it made us feel good to help where we could," said Scouts Ryan McNett and Keegan Donnelly, affirming those life lessons sunk in with them.
On two separate relief mission trips - one over Thanksgiving break 2012 and the other immediately after Christmas - the Scouts and leaders of Troop 33 distributed locally collected items for victims and put their backs into clean-up efforts in New Jersey and New York.
By Nov. 12, Scouts were collecting money, food, coasts and other items at donation boxes throughout the community. On Nov. 19, they loaded a 26-foot trailer with the critically needed supplies and headed for New Jersey. Supplies included non-perishable food, bottled water, cleaning supplies, baby formula, diapers, linens, blankets, winter coasts, clothing, toiletries, school supplies, safety equipment and more.
The Thanksgiving mission involved a 10-person team, including adults Golden, Chad McNett and James Ryan Sr. Scouts included Donnelly, McNett, Travis deOliveira, Hunter and Wesley Jensen, Caeden Keith and Brandon Tolliver.
"Through relief agencies set up on the East Coast, we were directed to specific places where we were needed most. The contents of the trailer were delivered to three areas - a town hall collection site in Union Beach, NJ; /beacon of Hope NMCC in Hazlet, NJ; and Clinton Hill community Resource Center, in Newark, NJ," said Golden.
On Nov. 22, the Scouts helped elderly residents at a senior center in Middletown, NJ. They served Thanksgiving dinner, bussed dishes and visited with the residents. The senior center had been without power for nine days following the storm. Residents applauded Scouts for their efforts as they left the building. On Nov. 23, they worked in Windward Beach Park, once voted the top park in the city, Windward Beach was badly damaged. Scouts worked hard to remove storm debris from wooded and beach areas, collecting a large amount of debris into a giant pile.
They also helped at a private residence in Brick, NJ, owned by an elderly couple where the husband, Hank, was battling cancer. The home had been flooded and the interior gutted. The Scouts removed large amounts of debris covering their lot. They said Hank told them he enjoyed being a Scout as a boy 65 years ago and that it was especially moving for him to see Scouts travel from Illinois to help storm victims. By Nov. 25, they were back home in DeKalb in order to attend school.
"Everyone was so impacted by that first trip, we knew we wanted to make another" said Golden, who soon organized a parents' meeting about the planned December relief mission.
On that trip, Golden and Luke Stanley were the adults accompanying Donnelly, Jacob Marx and Alex "A.J." Petersen. They left in blizzard conditions on Dec. 26, arriving in Newtown, CT, Dec 27, where they distributed donated items. On Dec. 28, the Scouts were among those digging out homes from windblown sand in Ocean Beach, NJ. Nearly 50 homes were dug out that day by a large work crew.
Scout also helped move Memorial School to the vacant building of Holy Family School in Union Beach, NJ. The original school building had been flooded, resulting with a move to the small distant St. Catherine's School building. The National Guard was based at Holy Family School after the storm. With the National Guard leaving, Holy Family became the new temporary location of the school. Scouts worked hard to move boxes and materials, helping teachers to reorganize. The flooded Memorial School building is expected to be rebuilt in March 2013. Another move will be needed.
They also worked at an action center in Far Rockaway, Queens, NY. The Action Center is a large distribution center supported by Occupy Sandy. Scouts worked to move boxes filled with supplies and help with distribution of the items for the day. Supporting an area devastated by storm surge, the center provided supplies to nearly 1,000 hurricane victims. After the day's work was done, Occupy Sandy staff took special time to applaud Scouts for their efforts.
Among the most moving moments on the trip came Dec. 27, when the Scouts visited Newtown, CT, just 13 days after the mass shooting of 26 victims at Sandy Hook Elementary School. Scouts met with city officials to deliver a signature banner signed by hundreds of students from DeKalb High School and a box with over 200 candy survival kits for students from Cub Pack 173. They installed a Christmas angel for temporary display in Dickinson Park, suspended in a semi-circle of trees overlooking a flag at half mast.
Scouts also visited make-shift memorial sties at various place in Newtown, including near the fire station just 1,000-feet from the barricaded school. They viewed thousands of stuffed animals, candles and other memorial tributes, along with 26 decorated Christmas trees that made for an unforgettable sight, the Scouts said.
Before heading home, they were able to see Times Square on New Year's Eve Day after distributing items at the Renaissance Center in Newark, NJ. The Troop drove home Jan 1-2, and watched on TV as the NIU Huskies played in the Orange Bowl at their stop-over in Streetsboro, OH.
Scout A.J. Petersen said the relief effort experience was unforgettable, even through exhausting at times. "We helped clear sand and debris from the homes of people who had lost everything, yet they were out there thanking us and trying to make the best of it. It was a great thing." Golden plans to take a third Scout group back for more relief efforts over Spring break in March.
LOCAL RED CROSS
VOLUNTEERS
Three American Red Cross volunteers from the DeKalb area had "up-front seats" as they worked distributing food to millions of victims and volunteers at disaster sited in the aftermath. "Photos give people no idea of what it was like there," said volunteer Dean Richardson, a retired 30-year DeKalb firefighter.
Unlike many retirees who prefer to step down after a life-long working career, Red Cross volunteers Richardson, along with Nancy and Paul McMenamin, retire special education teacher and NIU electrician, respectively, prefer an active role. They were readied by many Red Cross classes, some as specific as fighting fires.
The McMenamins started their volunteer work in 2009, while it had been several years earlier for Richardson who said he's been on seven major disasters – in Missouri, Colorado, Kentucky and North Dakota. He particularly remembered loss of life and extensive damage from tornadoes in Joplin, MO.
The New York team operated from an emergency response vehicle in New York. "there were building supplies dropped at each family residence," Nancy said. "People were afraid of losing their possessions to looters."
The level of difficulty from Hurricane Sandy and its test of the human spirit increased as temperatures fell dramatically. There was no power-no lights, no hear and often no gasoline. Residents waited in long lines around the block to get fuel. Some residents had generators, which of course also needed fuel.
"New York was a mess." Nancy said. "It was amazing to see all the building damage. Electric power lines took weeks to re-install and in some cases months. We did have cell phones and could communicate with other volunteers by radio," Nancy said.
The Regional Chicago-area Red Cross teams were planning to rescue effort even before the storm hit the New York area. Because there were also walk-in volunteers, major rescue agencies helped provide structure to the work. Red Cross volunteers were equipped with directions to other resources. "Housing was a major need," said Richardson, "because the hotels filled up quickly."
Of special value were nurses, he said, recalling about 90 percent on hand, along with social workers, mental health professionals, doctors and others. Volunteers are expected to offer two weeks of disaster service, and Richardson said one area volunteer had just left for this their "term of duty." In this and other rescue efforts, volunteers help distribute emergency housing, dollars, clothing and other needs including medication and eyeglasses.
Richardson said he had always been impressed with the quality of local Red Cross volunteers while he was still working as a firefighter, and decided to join the agency after retirement. "I'm proud of the work DeKalb area volunteers do," he said.
InVironment Magazine
Volume 5 Issue 2, March-April 2013 pages 14-17
Article written by Kathy Siebrasse and Diane Strand

MORE PHOTOS USED IN MAGAZINE ARTICLE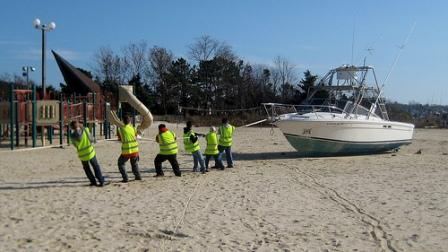 Beached boat at Windward Beach Park in Brick, NJ



L to R - Caeden Keith, Chad McNett, Brandon Tolliver, Keegan Donnelly,
Ryan McNett, Hunter Jensen, Wesley Jensen, Travis deOliveira, Cliff Golden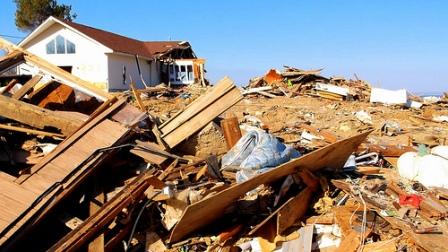 Hurricane damage in Union Beach, NJ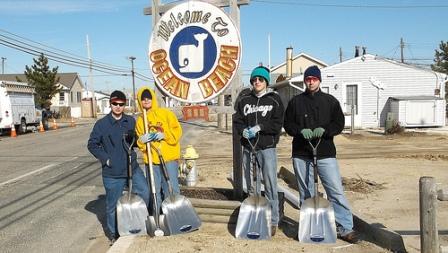 Jacob Marx, Keegan Donnelly, Alex "A.J." Petersen, Luke Stanley


.