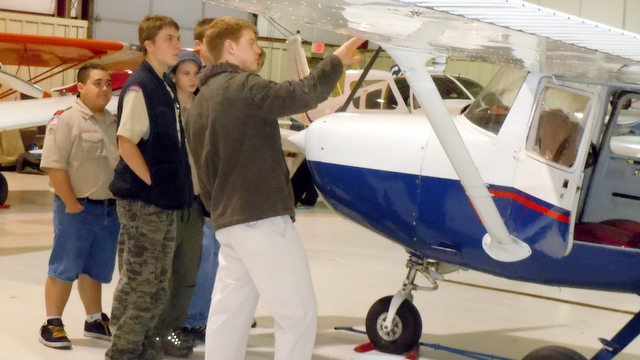 Boy scouts from Troop 33 and Troop 4 in DeKalb recently toured the hangar area
at the DeKalb Taylor Municipal Airport area to learn about pre-flight inspection.
Seeing aircraft engines and various parts of the plane helped them better understand
planes and how they fly. (Photo provided)

&nbsp

DeKalb Boy Scouts
earn Aviation Merit Badge




DeKalb Taylor Municipal Airport served as a perfect location to earn Aviation Merit Badge for Boy Scouts from Troop 33 and Troop 4 in DeKalb.

Their day began with classroom instruction exploring navigation history, aircraft familiarization, physics of flight, powerplants and aircraft instrumentation, which was taught by merit badge counselor David Marx of American Airlines.

Tom Cleveland, manager of DTMA, provided a guided tour of the airport facility, highlighted by showing the boys a MiG 21 fighter aircraft. Russian built in 1973, the MiG 21 was flown by the Polish Air Force before eventually finding a home in DeKalb. Its maximum speed is 1,500 mph.

John Galante with Fly America talked about aircraft pre-flight inspection as he guided Scouts to various planes in the main hangar. Boys learned many details about aircraft while seeing aircraft engines, how to work wings and steer tails, interior cockpits, and the complex methodology a pilot uses to control a plane.

Bruce Griffith and students with Kishwaukee Education Consortiumís Aviation Program provided quality time for boys as they used flight simulators to learn about flying. Boys were thrilled with their experience of flight as they simulated flying and landing a plane.

A mixture of classroom instruction, displays, tours and hands-on instruction provided a great learning experience for 16 Boy Scouts as they earned their Aviation merit badge.

.