&nbsp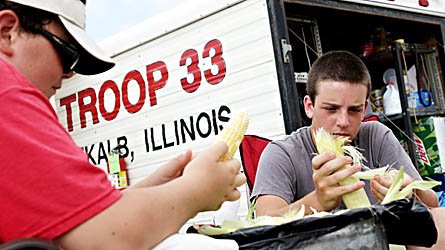 Andrew Stal (right) and Nathan Overmann shuck corn Saturday behind the Boy Scout Troop 33 booth at Corn Fest at the DeKalb Taylor Municipal Airport in DeKalb. This was the third year that Corn Fest had been held at the airport; it is not yet clear where the 2011 festival will be held.

DeKALB – With the construction projects that displaced Corn Fest from downtown DeKalb expected to end next year, it's not yet clear where the 2011 festival will be held.

The festival originated in 1977 as a downtown event, built around a corn boil that began 20 years earlier. But in 2008, streetscape improvements to the downtown area forced the festival to relocate to the DeKalb Taylor Municipal Airport, where it has been held since. Street construction is expected to conclude by the middle of 2011, before next year's festival, DeKalb City Manager Mark Biernacki said.

But Biernacki pointed out that the festival has had space to spread out at its new location, and bringing it back downtown likely would mean scaling back.

"The location at the airport has been well-received and allows for a larger, more efficient operation than would be the case downtown," Biernacki said.

"If the desire is to keep it as big as it is or to grow it, it would have to stay where it is."

The DeKalb Chamber of Commerce hears from merchants who want to bring the festival back to the heart of the city and those who want to keep it at the airport, Executive Director Jim Allen said.

"I think it's a mixed bag," Allen said. "My opinion is it's probably evenly split about whether it should be out there or downtown."

Allen has heard people say the festival is too big to bring back downtown, he said, but his opinion is organizers could "make it fit" in either place.

"Right now, people seem to think it's more comfortable where it's at," Allen said. "But it's really up to the Corn Fest committee to decide. It has nothing to do with the chamber."

Corn Fest chairman Shawn Lowe said he had no comment on when the committee would begin discussing next year's festival location. Lowe is an employee of the Daily Chronicle.

The airport site is easier for emergency personnel to patrol, DeKalb Police Chief Bill Feithen said. While police had no problem patrolling the downtown festival, Feithen said there seem to be fewer major incidents at the festival itself since it moved.

"People aren't as jammed into a small area," Feithen said. "And there's certainly no problems finding a parking space."

There might be a happy medium, Biernacki said. When the city began the downtown renovations, officials expressed a desire to hold festivals and street parties there when the projects were complete, he said.

"We could have it both ways," Biernacki said. "They could have the big festival at the airport and have smaller, more intimate events downtown."

Lowe said turnout at this year's Corn Fest seemed to be "about average." Crime also seemed to be down compared to some previous years, Feithen said, with no major incidents.

Police did write a large number of alcohol-related citations, he said, most in heavily student-populated neighborhoods surrounding the Northern Illinois University campus. NIU students returned to campus Thursday and began classes Monday

.