Pets abandoned after Katrina thriving in Chicago area homes
&nbsp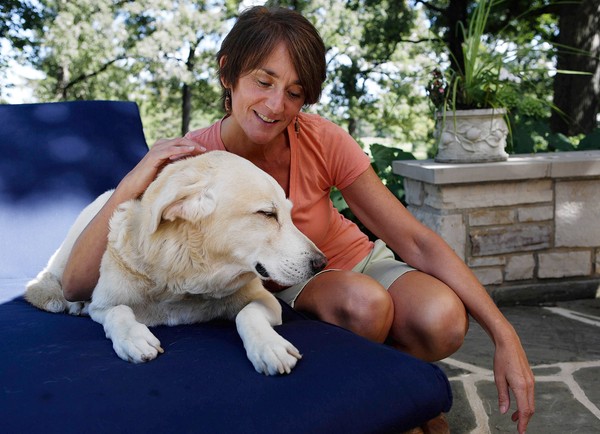 Val, a yellow labrador who survived Hurricane Katrina, was adopted by Ilene Fine of Inverness. "He was very weak," Fine said of Val. "But I sensed that he was grateful. He sensed somebody was caring for him." (Lane Christiansen, Tribune photo / August 25, 2010)

Val is one of the lucky ones.

He could easily have drowned when Hurricane Katrina washed across the Gulf Coast and flooded New Orleans five years ago this week.

The rescued included an estimated 8,500 abandoned pets. Val was among them.

The yellow Labrador was found roaming the streets of the devastated city. Along with scores of other pets in need of new homes, he wound up in the Chicago area.

Gloria Dauphin, executive director of Louisiana Society for the Prevention of Cruelty to Animals, recalled the overwhelming flow of traumatized animals found after the storm.

The refugees were mostly dogs, but also included cats, goats, horses and a Noah's Ark array of other pets, she said.

"There were more and more animals coming in and quite frankly it was just an emotional blur," Dauphin said. "It was just overwhelming to see the overwhelming number of animals that needed to be rescued."

Eventually, about one in five pets were reunited with their families, she said.

Thousands were shipped to shelters across the country.

"My heart went out to them," said Katrina Johnson, a veterinarian at Forest South Animal Hospital in University Park. "You didn't know who owned them and where that person was. … It was just sickening to your heart."

The stories of Val and other Hurricane Katrina survivors who wound up in the Chicago area follow.

&nbsp

Val

Ilene Fine of Inverness adopted Val in March 2006 at the Fortunate Pooches and Lab Rescue in Chicago. The dog was a bone-thin 40 pounds, half its recommended weight. He also had a broken leg and had trouble wagging his tail, which was also broken.

"He was in such bad condition," Fine said. "He was very weak. … But I sensed that he was grateful. He sensed somebody was caring for him. I always got this feeling he was thinking, 'what in the world was happening.'"

Though hurt and frail, the dog was not aggressive or angry, she said.

Today, Val weighs a healthy 72 pounds. He shares a home with Fine and her husband and another dog named Brandy.

Val keeps busy. He works with Brandy as a therapy dog. The pals are also the main characters in a series of children's books Fine has written.

Profits from the books are donated to Fortunate Pooches and Lab Rescue and other animal sanctuaries and rescue shelters.

Val has made a strong comeback, Fine said.

And he can now wag his tail, especially around children.

&nbsp

Oliver

In the days after Katrina, Julie Light of Glenview met Oliver, an orange tabby cat, while assisting with animal rescue efforts in Tylertown, Miss.

Light said when she first saw Oliver he looked "very frightened and lonely" and was suffering with an upper respiratory infection. Light took him home, where he joined her two other cats.

His health, she said, has been restored.

"I just kind of fell in love with him, he just looked so needy, like he needed love and a good home," she said.

&nbsp

Sage

Adam Ulrich of Long Grove adopted Sage, a beagle mix, in 2006.

The small dog wouldn't eat, said Ulrich, recalling that she could barely stand and that her foster owners were debating whether to put her down.

When Ulrich and his mother met Sage, she weighed less than 11 pounds, so small many thought it was a pup instead of a dog about 2 years old.

"(We) saw all her ribs and bones in her hips," Ulrich said. "You could tell she didn't know what was going on."

For the first few weeks, Ulrich hand fed the dog ground beef and rice.

She feared people, but learned to trust him.

Today, Sage enjoys playing Frisbee.

"She really taught me a lot," he said. "She is my teammate, my running partner, my everything. She is my best friend in the whole world. There is nothing I wouldn't do for that dog."

&nbsp

Scout

Steve Fromm, who lives in Chicago's Wrigleyville neighborhood, adopted his "best friend" from a shelter in DeKalb in June 2006.

The dog named Scout was found with seven other puppies beneath a dilapidated house in New Orleans. A Boy Scout troop from DeKalb had gone there to rescue pets and spotted the dogs. They brought them to a shelter in their hometown.

Looking for a pet, Fromm had considered buying a German shepherd at a pet store. But he recalled that when he walked into the shelter and spotted the pup with a crooked tail, he knew he'd found the right dog.

These days Scout sleeps on Fromm's bed.

"He is my best friend," Fromm said

&nbsp

Lucky

In the wake of the hurricane, Gail Monick of Bensenville went on a rescue mission to New Orleans with Noah's Wish, a California-based animal rescue organization.

While working at a warehouse converted into a makeshift shelter, Monick met Lucky, a husky-chow mix found tied to a tree in a backyard.

"She was a very sweet dog, just terrified, cowering in the back of her crate," said Monick who also volunteers for the West Suburban Humane Society in Downers Grove.

The shelter received 41 dogs and cats from Katrina.

Monick planned to bring Lucky back to the Humane Society for adoption but eventually took her home.

Although she still trembles and barks when a loud storm strikes, Lucky is a healthy and adjusted, Monick said.

"People can't believe she is the same dog," she said. "There have been such wonderful, positive changes."

&nbsp

Cajun

Cajun was adopted by Nancy McCaffrey from Animals Deserving of Proper Treatment in Naperville. He was one of 17 dogs rescued from a shelter in Louisiana.

It was a close call. The dogs were nearly euthanized, McCaffrey said.

The Glen Ellyn family welcomed Cajun, a sick Jack Russell terrier mix.

"You just looked at him and it was like a deer, you thought, 'Oh, this poor dog … all that he has been through,'" McCaffrey recalled.

Today she reports he is a smart, affectionate dog with an occasional cough due to suspected lung damage.

"He is a member of the family," McCaffrey said.

.