Wed June 25 - Day 13..Back Home to Beautiful DeKalb, Illinois
---
DAY 1 - FRIDAY JUNE 13, 2003
---
We met at the First Lutheran Church at 5:30pm to begin our exciting adventure. After driving to Chicago O'Hare Airport, we boarded Spirit Air flight 1103 and took off into the wild blue at 9:18pm CST. We arrived in Las Vegas, Nevada at 11:18pm PST. Note there's a two hour difference between Central Standard Time and Pacific Standard Time. So when it's only 11:18pm in Las Vegas, it's 1:18am Illinois time, and our bodies were still on Illinois time. We retrieved our luggage, picked up our rental vehicles, and drove to Nellis Air Force Base for our first night.

We used the Chapel at Nellis Air Force Base in Las Vegas. We laid out our sleeping bags indoors and got a few hours sleep. It was air conditioned! We had many many very busy days in store for us on this trip.
---
DAY 2 - SATURDAY JUNE 14, 2003
---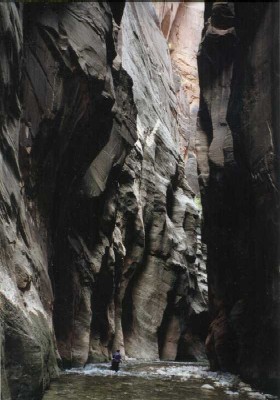 Photo of a hiker in the Narrows. Note he is hiking in the river.
We drove to Zion National Park in southern Utah and hiked the lower Narrows area at Zion National Park. We didn't go quite as far as the area in this photo though. We just hiked the first part of the narrows. Special permits are required for anything beyond that. Scouts wore old tennis shoes that could get wet. We hiked in water of the Virgin River.
Here is a summary of the Narrows hiking area.
The most famous hike of all is up Zion Canyon itself through the Narrows. Getting off at the end of Zion Canyon Scenic Drive at the Temple of Sinawava you head north about a mile up the paved Riverside Walk Trail. The trail parallels the Virgin River and runs next to a desert swamp. At the end of the trail is a sand beachhead that allows you to have access to the Virgin River and is the start of the Narrows Trail. Typically large groups of people can be found frolicking in the cold water and enjoying riding the current downstream.
A hike up the Narrows can be as simple as a day hike or a backcountry experience up its sixteen-mile length. Most of the hiking is done in the river itself. In some locations the canyon walls are less than twenty-five feet apart with the walls towering high above you. Make sure to check the sign for the river conditions. Hiking up the Virgin River can be dangerous, flash floods are possible and on several sections there is no way to get above the high water mark.
If you plan to hike the entire length of the Narrows you will need to get a backcountry permit. Overnight stays are limited to one night and most people will recommend having a good set of trekking poles to help you on the rocky bottom. If you plan to do a day hike, you don't have to travel far to get away from the crowds and get into the narrow parts of the canyon. A two hour trek will offer you solitude and wonder.
We drove to Kodachrome State Park for camping tonight.
---
DAY 3 - SUNDAY JUNE 15, 2003
---
Our day began early. We drove to the town of Tropic, Utah for an all-you-can eat pancake breakfast. Next we did some hiking and sightseeing followed by a spectacular horseback ride through Bryce Canyon National Park in Utah. We rode horses and mules down into the magnificent rock formations.
Horseback riding through a park of unusual beauty.
We drove to Grand Canyon for magnificent views of sunset and were treated to seeing four California Condors circling over our night's campsite.
---
DAY 4 - MONDAY JUNE 16, 2003
---
We visited scenic overlooks and hiked along the Grand Canyon's north rim. It looked like this...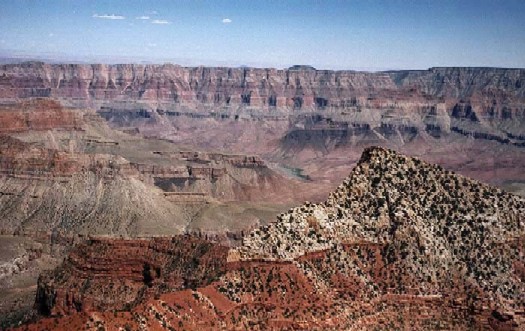 North Rim looking south into the Grand Canyon.
The North Rim is much less crowded than the South Rim. It is also 1,000 feet higher in elevation, which makes the temperatures slightly cooler. Some people believe the views from the North Rim are better as well.

---
DAY 5 - TUESDAY JUNE 17, 2003
---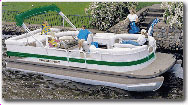 We enjoyed boating on Lake Powell near Page, Arizona. We rented a 24 foot pontoon boat for the day. We rented a giant tube which could hold two boys at a time. They took turns tubing as we explored a side canyon waterway.
We stopped off for a swim, and have a picnic lunch, then just cruised around America's second largest manmade lake before coming in for the day.
After dinner in Page, we had a long drive through the Navajo Reservation to Bonito Campground in Coconino National Forest. We camped atop volcanic ash that night, with tempertures dipping to 39 degrees.
---
DAY 6 - WEDNESDAY JUNE 18, 2003
---
After taking down camp we visited the edge of a volcanic lava field and drove along many more in Sunset Crater National Monument. Driving across the Painted Desert we entered Wupatki National Monument. We visited the Wukoki and Wupatki Pueblos. We also learned about the flora and fauna of the desert at the Visitor's Center.
We stopped in for some shopping in Flagstaff, then headed south along the scenic Oak Creek Canyon route through more of Coconino National Forest.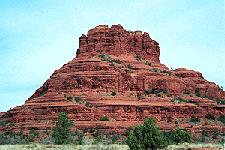 Bell Rock near Sedona, Arizona.
We stopped for a picnic lunch and long swim at Slide Rock State Park There was some great adventurous natural water sliding.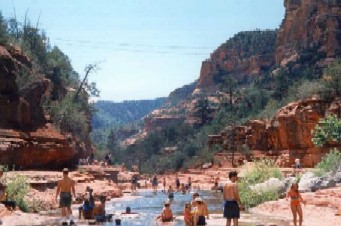 Slide Rock State Park near Sedona, Arizona.


We camped tonight at usery Mountain Park near Phoenix, Arizona. The daytime temperature was 110 degrees, but it cooled to the mid 80's at night. We set up in the dark, avoiding the worst heat.
In lushness and variety of life, the Sonoran Desert far surpasses all other North American deserts. And yet, it is one of the hottest and driest regions on the continent. Summer midday temperatures commonly climb above 100 degrees.
Fewer than 12 inches of rain falls in a typical year. The plants and animals able to survive in this environment, with adaptations specially designed for desert survival, make up one of the most interesting and unusual collections of life in the United States.
---
DAY 7 - THURSDAY JUNE 19, 2003
---
After taking down camp and breakfast, we left our desert for the road. We drove south to Tucson, Arizona where we spent the day touring the Pima Air Museum and the AMARK facility at Davis-Monthan Air Force Base. We made a brief stop at the St. Xavier Mission Church.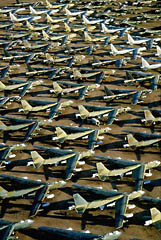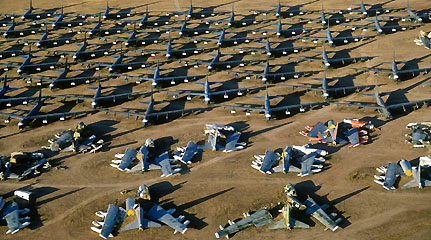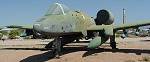 Pima Air and Space Museum at Davis-Montan Air Force Base
.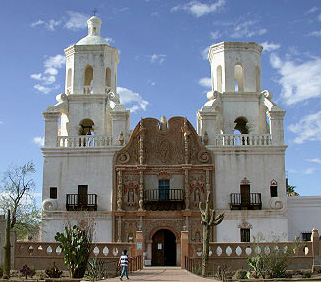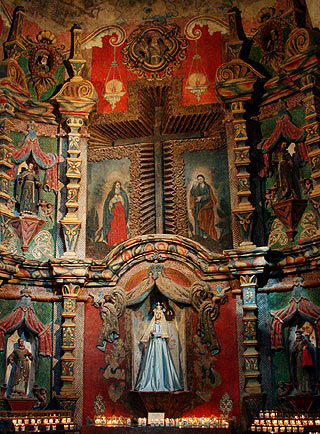 Exterior and interior views of St Xavier Mission Church south of Tucson. This will help get us psyched up for Mexico. Plus it's free!
The story: The site for the church was chosen by the Jesuit missionary Father Eusebio Kino in 1700, and named for his patron saint, St. Francis Xavier.
Work on the present structure began about 1783. San Xavier was completed in 1797, and has been continuously in use since then, serving members of the Tohono O'Odham Nation. It is considered the finest example of mission architecture in the United States.
Our original plan was to camp on Mount Lemmon, but it was ablaze in a horrible forest fire when we were there. The fire claimed over 250 homes in the next few days.
We decided it best to move on. So we drove south to Nogales, Arizona where we got rooms at a Super 8 motel, prepared a great dinner, and took care of laundry. We needed a good night's sleep at this point.
---
DAY 8 - FRIDAY JUNE 20, 2003
---
We drove to a parking area to store our vehicles for a few days. Then we walked across the border from Nogales, Arizona, into Nogales, Mexico. We took taxis to the bus station and on to Guaymas, Mexico 250 miles south.
Buses are a great way to travel in Mexico.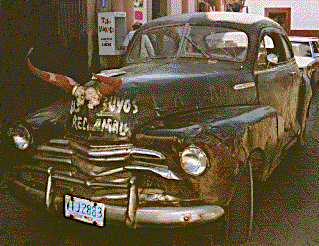 Just Kidding! The buses are very modern.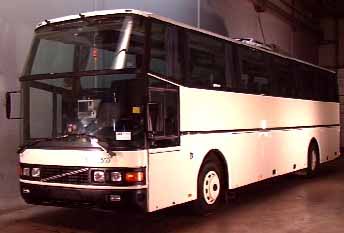 More like this.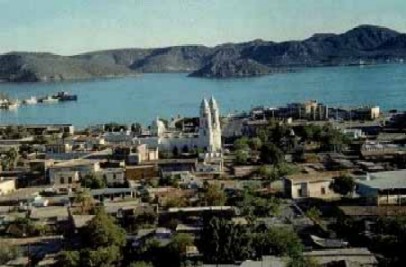 GUAYMAS, Sonora Mexico
The city of Guaymas is located on the northwest coast of Mexico at the beautiful Bacochibampo Bay in the Sea of Cortez, one of the richest seas in the world in marine life, and is the main seaport of the state of Sonora.
The city was founded in 1701 by missionaries Francisco Eusebio Kino and Salvatierra, who built the Mission of San José of Guaymas 10 kms. (6 miles) north of today's city.
The main points of interest in Guaymas are the churches of San Fernando (Nineteenth Century) and Del Sagrado Corazón, the Bank of Sonora building in neoclassic style, the City Hall (1899), the Plaza de San Fernando and its kiosk, the statue of the Fisherman (the symbol of the city), and the Plaza of Three Presidents, built to honor Adolfo de la Huerta, Plutarco Elias Calles and Abelardo L. Rodriguez, all natives from the city and Presidents of Mexico.
Surrounding the city is the beautiful beach of Miramar. Also worth seeing is the old Mission of San José de Guaymas and the wildlife preserve, El Sahuaro, where many different species of cactus and plants native to the area are found.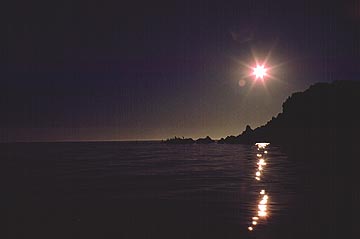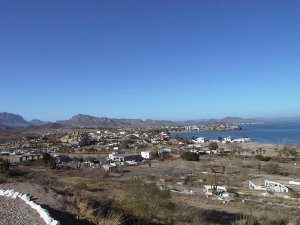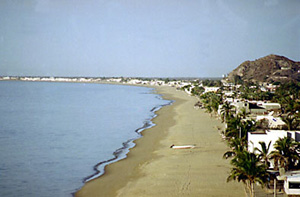 Guaymas is in the state of Sonora on the eastern coast of the Gulf of California (Sea of Cortez). Year-round sun and beautiful beaches offer great opportunities for fishing, kayaking, scuba diving, and other aquatic sports.
Guaymas is a major fishing port, with people arriving by plane, car, train, or ship. A ferry travels between Santa Rosalia in Baja California and Guaymas twice each week. To the north of Guaymas the unspoiled Pinacate Reserve harbors inactive lava tubes, dormant volcanoes, and a rich archeologic and geologic history. Nearby, Nacapule Cañon Gorge contains a tropical microclimate which sustains a unique endemic flora and fauna. "Estero del Soldado," the northernmost coastal lagoon on the Pacific Ocean, supports an extensive mangrove ecosystem where ongoing research strives to understand the processes that govern marine life in the area.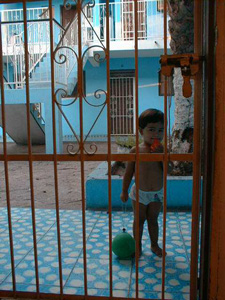 This is a view of the courtyard at our hotel in Guaymas, Mexico, Casa de Huespedes Lupita.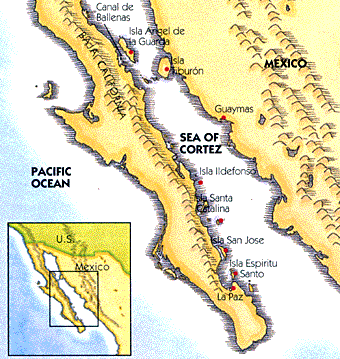 Guaymas is located along the Sea of Cortez in Mexico.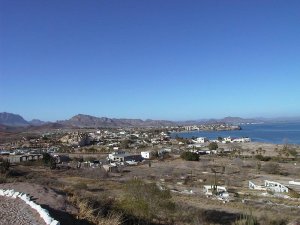 ---
DAY 9 - SATURDAY JUNE 21, 2003
---
San Carlos is only a few miles from Guaymas, Mexico.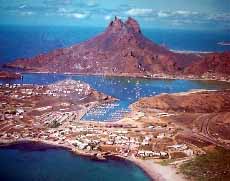 We took a bus to San Carlos, then purchased day passes at a very nice private beach, cabana, and pool complex. We also rented sea kayaks and enjoyed the sea. Of course nothing is ever perfect. A school of jellyfish drifted in and some boys were stung. One boy had a very severe reaction to the jellyfish stings. Fearing anaphalactic shock, we rushed him to an emergency center procuring a local man and his car. Everything turned out OK. We took a bus back to the beach, but lost a wallet in the process. We filed a report of a stolen wallet before returning to Guaymas on the bus.
Back in Guaymas we had a fantastic dinner meal. We strolled through the downtown area and to the fishing pier to see the shrimping boats, the Fisherman Statue, and Guaymas' lovely park and beautiful Cathedral. We ended the day shopping for souvineers along a narrow street lined with vendor stalls. We also went to a supermarket to purchase breakfast items and snacks for the bus ride north. I believe we were the only Americans in the store.
---
DAY 10 - SUNDAY JUNE 22, 2003
---
This was a long day of travel.
The first order of the day was receiving word that the police had recovered the wallet. We took a bus to San Carlos, and after negotiating with the local police, finally had the wallet returned to us. We were seriously behind our intended schedule at this point. We had planned to take an 8:00am bus that morning.
Finally we leave the city of Guaymas on a bus traveling 250 miles north to Nogales, Mexico. We take a taxi across town and walk acorss the U.S. border. After crossing the border, we found the parking storage area was closed for the day and we were stranded for the night.
Not to worry, Troop 555 of Nogales came to our rescue. Their Scoutmaster made a few phone calls and presto, our vehicles were released to us and we were motorists once again! It was dark now as we started our journey north to Phoenix.
We drove until late into the evening and finally checked into the Country Inn & Suites in Mesa, Arizona. It was too late and we were too tired to be camping tonight in the desert. It was a long tiring and stressful day, but it was done.
That's the price we paid for a few days in paradise. It was worth it though!
---
DAY 11 - MONDAY JUNE 23, 2003
---
We visited a relative's home for a visit and a swim party that morning. It was a long drive to Las Vegas. It was dark when we passed Hoover Dam.
From here it's on to the famous desert oasis of Las Vegas, Nevada. It is one of the most architecturally unique cities in the world, home to some of the largest hotels in the world. We will explore the famous Strip tomorrow.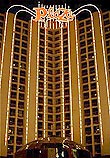 Our hotel for tonight, the Plaza.
We spent our final night of the trip at the 1,000 room Plaza hotel located at the end of Freemont Street in downtown Las Vegas. Downtown is where Las Vegas started.
What the Plaza says about their hotel...
The way to have fun in Las Vegas is at Jackie Gaughan's Plaza Hotel & Casino in Downtown Las Vegas - your complete destination resort with over 1,000 spacious rooms and suites; extraordinary dining in our world famous Center Stage Restaurant that overlooks the fabulous "Fremont Street Experience" light and sound show with its 2.1 million lights and booming symphonic sound - a must see attraction; scintillating entertainment in our Plaza Showroom and Omaha Lounge. We have a Fitness Center and a year-round pool/sundeck with a quarter-mile jogging track, and tennis courts to keep you fit during your stay!
We took a brief walking tour of downtown after checking in at the hotel before going to bed.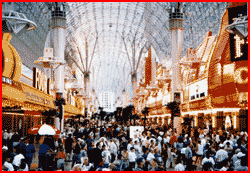 The Freemont Street Experience.
Some Free things to do in Las Vegas.
"Air Play" at the Tropicana
"Conservatory" at the Bellagio
"Fountains Show" at the Bellagio
"Fountains Show" and "Fall of Atlantis" at Ceasar's Palace
"Freemont Street Experience" across from our very own Plaza hotel
"Lion Habitat" at the MGM Grand
"M&M World" next to the MGM Grand
"Pirate Battle" at Treasure Island
"Tiana Carroll's Bird Show" at the Tropicana
"Tiger Habitat" at the Mirage (Seigfried & Roy's Tigers)
"Volcano Eruption" at the Mirage
"Wildlife Habitat" at the Flamingo
---
DAY 12 - TUESDAY JUNE 24, 2003
---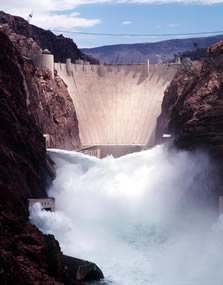 After breakfast at the hotel we toured the famous Hoover Dam on our final day.
After Hoover Dam, we returned to Las Vegas and had lunch before arriving at the Strip. There are so many things to see and do along the strip.
LAS VEGAS THRILL RIDES
"Big Shot" at the Stratosphere Tower
"Canyon Blaster" at Circus Circus
"High Roller" at the Stratosphere Tower
"In Search of the Obelisk" at the Luxor
"Manhatten Express" at New York New York
"Merlin's Magic Motions" at the Excaliber
"Race for Atlantis" at Ceasar's Palace
"Speed, the Ride" at the Sahara
"Start Trek, the Experience" at the Las Vegas Hilton

Also 40 Miles South of Las Vegas in Primm, Nevada

"Turbo Drop"
Las Vegas is a truly unique city. Everyone should experience it at least once.
We visited the Luxor with it's great pyramid, saw the lions at the MGM Grand, the fountain show at the Bellagio, New York New York, Paris and it's Eiffel Tower, the Pirate Show at the Treasure Island, the canals of Venice at the Venician. It was all very very impressive.
---
DAY 13 - WEDNESDAY JUNE 25, 2003
This last day of the trip was spent at the airport for a late night dinner before boarding our flight after midnight. The flight home crossed two time zones so we arrived in Chicago at 6:10am and eventually back to our beloved DeKalb, Illinois.
---
---
SOUTHWEST USA / MEXICO TOUR 2003
Canyon Trail Rides 435-679-8665
Zion National Park, or here
---
Locations/Activities
********** Amusement - Las Vegas Strip; Las Vegas, Nevada ********** Boating - Lake Powell National Recreation Area, Arizona/Utah ********** Beaches - Sea of Cortez, Guaymas Mexico ********** Camping - Coconino National Forest; Arizona - Kodachrome State Park; Utah - Grand Canyon National Park; Arizona - Usery Mountain Park; Arizona ********** Hiking (short day hikes) - Bryce Canyon National Park; Utah - Grand Canyon National Park; Arizona - Zion National Park; Utah ********** Historic/Educational Sites - AMARK Facility; Davis-Monthan Air Force Base; Tucson, Arizona - Hoover Dam tour; Boulder, Nevada - Pima Air & Space Museum; Tucson, Arizona - St Xavier del Bac Mission; Tucson, Arizona - Wupatki National Monument; Arizona ********** Horseback Riding - Bryce Canyon National Park; Utah ********** Hotels - Casa de Huespedes Lupita; Guaymas, Mexico (2 nights) - Country Inn & Suites; Mesa, Arizona - Plaza Hotel; Las Vegas, Nevada - Super 8 Motel; Nogales, Arizona ********** Military Bases - Davis-Monthan Air Force Base; Tucson, Arizona - Nellis Air Force Base; Las Vegas, Nevada (1 night) ********** National Park/Monuments - Bryce Canyon National Park; Utah - Grand Canyon National Park; Arizona - Lake Glendale National Recreation Area; Arizona/Utah - Sunset Crater National Monument; Arizona - Zion National Park; Utah - Wupatki National Monument; Arizona ********** Sea Kayaking - Sea of Cortez; San Carlos, Mexico ********** State/Regional Parks - Kodachrome State Park, Utah - Slide Rock State Park, Arizona - Usery Mountain Park, Arizona ********** Swimming - Swimming--Lake Powell, Utah - Swimming--Private Residence; Gold Canyon, Arizona - Swimming--Sea of Cortez, Mexico - Swimming--Slide Rocks State Park, Mexico **********
---